Welcome to the Minneapolis Roosevelt Senior High Class of 1959 Website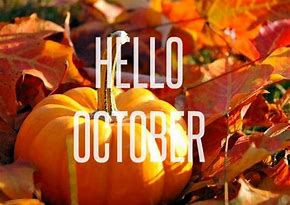 Welcome October 2023!
Fall Greetings to the RHS Class of 1959!!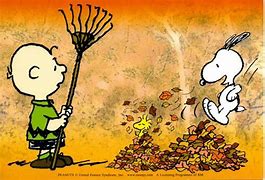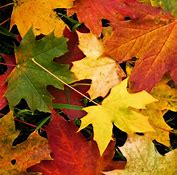 ---
Paul Beckstrom Retires, Again!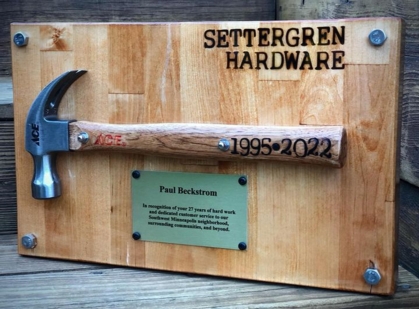 Today we announce the well-earned, and much deserved retirement of Paul Beckstrom.
We are so grateful for the 27 years of service Paul gave us. We are honored to call him one of our longest, dedicated employees. Paul is a Veteran and worked his early years for Daytons. Later, he switched careers and opened his own hardware store in Hopkins. After selling his store, he joined the Settergren Hardware family in 1995. Paul has been a staple here at the Penn Avenue location for more than 27 years! We will miss him dearly!
Please join us in congratulating Paul on his much deserved retirement! Please feel free to share a fun memory or a time Paul helped you with a project. Paul doesn't have social media, but we will make sure he gets to read all your comments/notes/memories. Congratulations Paul on your retirement!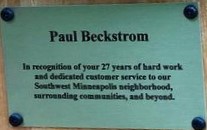 This community post was written by Carl McGrane, Store Manager of Settergren Hardware on Penn Ave S. for Southwest Voices, June 9, 2022.
"80+/-" Birthday Luncheon
Our luncheon was held on Friday, September 10th, 2021 where we all enjoyed the humor and entertainment of Dick Jonckowski, the retired voice of Gopher basketball. It was a wonderful time of conversation, good food and fond memories. For those who were unable to attend, your presence was missed! For those in attendance, thanks for the memories! See you all in 2024--God willing and the creek don't rise!
If you have photos, please e-mail them to me, and I will add them to the website. Thanks so much!
Classmates & Guests in Attendance:
Classmates:
Jim Allison Sue Hack Marlene Ramberg
Ben Andersen Barb Iverson Joan Renneke
Helen Anderson Diana Jangula Hal Rogers
Judy Arvidson Jeff Johnson Sandy Schreiner
Jeanne Awes Marette Johnson Judy Schultz
Pat Beckman Judy Jones Bob Schwartz
Renae Bendik Denny Knapp Don Selg
Sandy Benedict Wayne Koepke Leah Shuberg
Arlene Bjurstrom Ted Larson Dick Slachta
Bob Blix Shelle Lenarz Gary Streich
Patti Bluml Barb Lundquist Ron Svitak
Barb Bush Cathy Maloney Bonnie Taplin
Carol Carlson Bev Matson Darlene Vanderkooi
Sharon Carlson Laura McClain Bruce Wakefield
Georgiann Connor Kay McKee Lyle Walker
Bill Cote Bonnie Moline Barb Whitney
Georgia Cramer Elly Nyberg Roland Willits
Curt Delegard LuAnn Nygaard Dave Winick
Sharon Dunning Molly Pearson Roger Wold
Marlys Erickson Karol Peterson Ron Zeis
Nancy Erikson Duane Ramberg
Ron Faanes
Guests:
Helen Allison Jim Lintz Mike Timmons
Judy Cote David Pickit Bob Wasko
Julie Faxfog Barb Reiter Guest of Roland Willits
Ken Hendrickson Joyce Selg Lynn Winick
Dick Jonckowski Warren Sjoberg
Donna Larson Jeri Slachta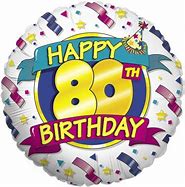 Roosevelt Hall of Fame - 2020 Inductees
For the first time, the RHS Class of '59 will have three inductees into the Hall of Fame in September 2020. Our class will have the most inductees of any class with a total of five. Joining Stan Paulson and Gail Omvedt are this year's new members:
Ron Faanes: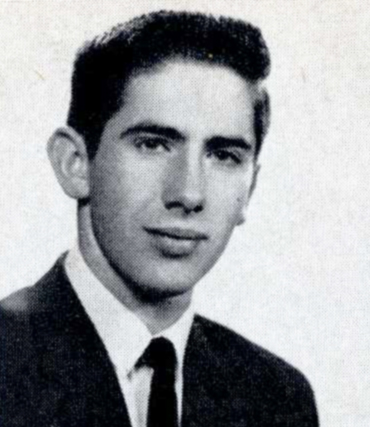 Bill Nelson: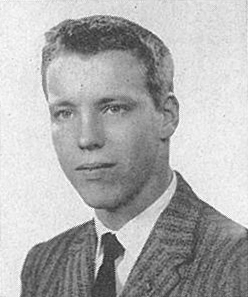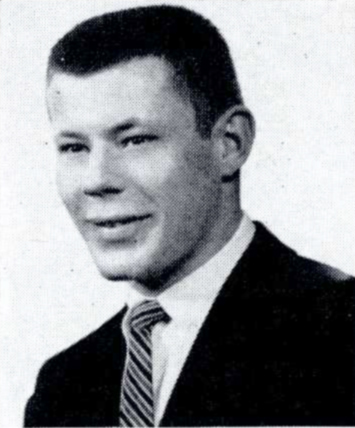 Duane Ramberg
Hall of Fame of Inductee - 2022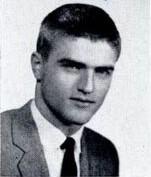 Manfred Rietsch
Manfred and his family fled Germany when he was fourteen-years-old. Following graduation from RHS, he enrolled at the University of Minnesota. After working a variety of jobs, Manfred graduated from the University of Minnesota with a degree in philosophy and literature. He was encouraged to find a new direction in his life and joined the Marine Corps and attended Officer Candidate School in Quantico, Virginia. He went on to flight schools in Florida, Mississippi, Texas, and finally Cherry Point, North Carolina, where he trained as a pilot on the F-4 Phantom II. The rest of his story can be found on the left-hand side of our Home Page.
The Arrow and the Song
I shot an arrow into the air,
It fell to earth, I knew not where;
For, so swiftly it flew, the sight
Could not follow it in its flight.
I breathed a song into the air,
It fell to earth, I knew not where;
For who has sight so keen and strong,
That it can follow the flight of song?
Long, long afterward, in an oak
I found the arrow, still unbroke;
And the song, from beginning to end,
I found again in the heart of a friend.
Henry Wadsworth Longfellow reminds us
why we gather with friends of old:
And Deering's Woods are fresh and fair,
And with joy that is almost pain
My heart goes back to wander there,
And among the dreams of the days that were,
I find my lost youth again.
And the strange and beautiful song,
The groves are repeating it still:
"A boy's will is the wind's will,
And the thoughts of youth are long, long thoughts."
Our September 2019 Reunion
Thanks to all who attended our 60-Year Class Reunion! I have posted all of the photos. I am only showing women's maiden names, with a couple of exceptions. The entire list of attendees is posted in the left-hand column under "60th Reunion Attendees - 2019". What an amazing group of people!
If I have mispelled your name, please let me know. My editing has been very minimal, and it is too easy for me to hit the wrong key!
If you have photos to share, please e-mail them to me, or send them on a thumb drive--or something similar--and I will post and return your drive, disk, etc. The more photos, the merrier!!
Also, if you have any other photos of your days as a youth, pictures of you today, any that will let us know what you're up to, please e-mail, U.S. Postal mail, thumb drive, etc., and I will post them for our classmates to see!! Thanks in advance for sharing with us!!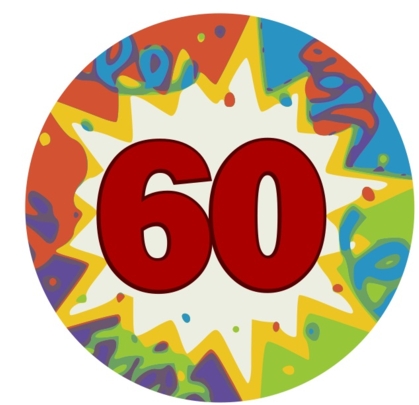 Our "60-Year" Reunion was held
September 21st, 2019
Directory Corrections
There are already corrections for the Directory! It becomes a problem, trying to list them as they come in! So, if you have trouble with any of the information, please let me know via e-mail, or phone call, and I will send you the corrected information.
Unfortunately, I left out a digit for Bob Carnes' phone number. It should read: 320-963-4171. Sorry about that--not sure how it happened since the number hadn't changed since the last Directory was printed!!

Another Walk Down Memory Lane:
My, oh, my, this will look so familiar to all! Such fun as we remember our youth! You should be able to just click on the address. If that doesn't work, cut and paste, or type into your browser--there are two parts to watch: http://biggeekdad.com/2013/01/the-best-of-times/
To Brighten Your Day!
Please type this in your browser, or copy and paste it: https://www.facebook.com/cohmedy/videos/2218040515137541/
Hopefully, you will laugh outloud! Now they know how seniors feel when they try their new phones!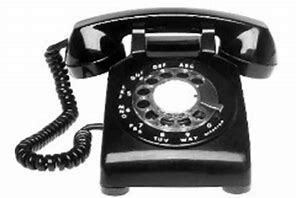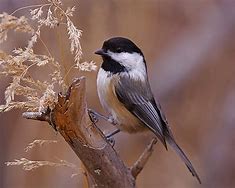 The Chickadee Song
Do you remember singing the "Chickadee Song" during our grade school days?? As I work in my yard and listen to the chickadees, I am always reminded of singing this little song at Howe Grade School. It's rhythm is exactly as that little bird sings it! I am certain I was oblivious to that when we were singing it, oh, so many years ago!
"Chickadee, dee, dee, dee
In the Evergreen tree
I'm calling, I'm calling
Chickadee, dee, dee, dee."
Have you moved, changed your phone number or e-mail address?
Please let me know if you have changes to any of the above! You can call or text me at: 206-550-1039; e-mail me at: patti_lt@hotmail.com; or go to your "Profile" on this website to make the changes. Thanks so much!!
Patti (Bluml) Timmons
Stepping Around the Cowcatcher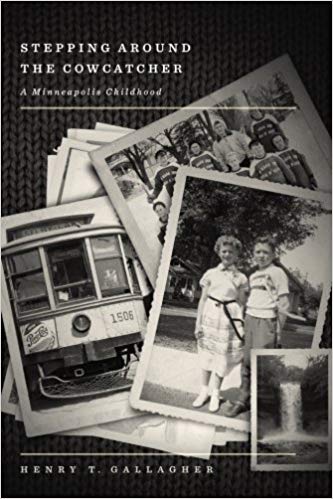 Words of praise for this story about the South Minneapolis of our youth from Doug Butler: "I recommend this book as it was written by a '57 RHS grad recalling his childhood memories(and ours) growing up in south MPLS. Check it out."
Hank Gallagher gave a presentation of his book at the Arizona-RHS Luncheon in February 2018--so much fun listening to our history. After re-reading my copy--it brought back so many memories. I think we could all add additional escapades of our own!!

Another book about life in the Twin Cities a bit before "our days"!
From Stanley Gordon West's novel, Growing an Inch (page 62):
"It's funny how I hear my boyhood sometimes. It comes to me out of darkness on puppy dog paws and the taste of jaw-breakers. It tiptoes out of quiet moments in knotted high-top tennis shoes and corduroy knickers. It wings on the call of a crow or the smell of pine, sunlight reflecting off a lake. It won't lie down; it won't let me forget.
"I hear my boyhood sometimes like a chum calling me to come out and play. It tells me to remember, to speak of moments that flew away, that are flying now out towards the stars, ripples across an unending sea. My boyhood tells me to remember those things, those times, to bring them back to earth. Say them out loud or write the words on paper, keep them from being lost out beyond the sun. But sometimes I don't want to remember. I don't want to write them down, I want to forget.
"My boyhood won't relent. It paces somewhere behind my hearbeats; it won't go away. It is unfinished. Remember, it tells me, remember. Write it down. It will happen again in the hearts of those who read. No one warned me how swiftly it would fly away. My boyhood comes to me and warns me, tells me it will be gone forever, as though it never happened.
"I hear my boyhood sometimes."
Stanley Gordon West (1932 – 2015) grew up in St. Paul and attended St. Paul Central High School. He has written three fiction books about life during his high school years. You will find West's books a lovely trip down Memory Lane, with two of the books revolving around mysteries!
Why are We the Teddies???
The following article and comment are from Bill Larson: "My fellow 'Teddies': I always wondered why we were referred to as "Teddies" and used the Teddy Bear as a logo. After reading the attached article today I have some understanding. I never liked being thought of as a soft 'teddy' bear. I wanted the original Roosevelt name of 'Roughrider'. But I have worked through this and am happy." (You will see additional information on the left-hand side of our Home Page under the heading "Teddy Roosevelt".)
Here is an abridged copy of the article from the Washington Post:
Teddy Roosevelt made a legend out of one of his vacations
Gillian Brockell, The Washington Post
Published 11:54 pm EDT, Tuesday, July 31, 2018
Back to Gallery
One of history's roughest and toughest presidents used to vacation. And one of those trips became so legendary, you probably know about it, even if you don't think you do.
In the fall of 1902, a year into his presidency, President Theodore Roosevelt headed to Mississippi for a bear-hunting vacation. There are only about 50 bears in the whole state these days, but, according to state park officials, in the early 1900s, Mississippi's dense hardwood forests and canebrakes were home to thousands. Hunting dogs would chase them out into the open, where hunters on horseback could take aim.
Newspapers breathlessly recounted his train ride to the wilderness and the roughness of the camp. "PRESIDENT IN CAMP; READY FOR BEARS," the New York Times wrote on Nov. 14:
"He was clad in hunting costume, riding trousers, heavy leather leggings, blue flannel shirt, corduroy coat, and wore brown slouch hat; around his waist was buckled his cartridge belt and at this side hung his ivory-handled hunting knife."
The next day, after hours of vigorous pursuit, Roosevelt still hadn't bagged a bear. A guide chased a small one into a thicket, then told Roosevelt to wait on the other side for the bear to come out. After some time, Roosevelt left for lunch. No sooner did he leave then the bear ran out of the thicket.
"Had they remained, the president would have had a shot," a Washington Post article chided.
The bear, exhausted, fought valiantly with hunting dogs before the guide clubbed it over the head and tied it to a tree. He summoned the president to take his shot. Roosevelt refused. By his measure, it was unsportsmanlike to shoot an injured and tethered animal. He urged an aide to put it out of its misery.
The rest of the hunt wasn't much better, perhaps caused by contingents of "insurgent" reporters hunting the president through the canebrakes and scaring away animals. After a few more days, Roosevelt gave up. "A string of trout the only trophy of the hunting party," the New York Times announced.
News of the hypermasculine president's vacation flop spurred Washington Post cartoonist Clifford Berryman to draw a cartoon of his refusal to shoot the small bear, which he shrunk further to cub size. It ran in newspapers across the country.
A Brooklyn, New York, shop owner saw the cartoon and had an idea for a new toy. He and his wife sewed a plush stuffed bear, and, with Roosevelt's permission, set it in a window display labeled "Teddy's bear." And thus, the teddy bear was born. It continues to be one of the most popular children's toys in the world, and it even has had a march composed in its honor.
Washington Post Cartoon from 1902.
Our Haus - Mike Gwiazdon
Sportsman & Ski Haus celebrates 50 years in business in the Flathead Valley
By Molly Priddy // Jun 13, 2018
Plenty can change in a valley like the Flathead in 50 years.
More people, more houses, more of the modern world continuing its encroaching march on wild places; in 1968, there weren't yet 40,000 people in Flathead County, compared to about 100,000 estimated living here now.
But as important as it is to keep track of the changes, it's also key to note what hasn't changed in all that time: a love for the outdoors, the desire to be in and near nature, and the need to be properly outfitted for such adventures.
And for half a century, folks in the Flathead have been able to turn to Sportsman & Ski Haus, a local powerhouse for outdoor essentials that celebrates 50 years in business in 2018.
"One of the reasons we built this store is because of the community supporting us," Sportsman & Ski Haus President Mike Gwiazdon said last week. "We're a big part of the community, and that's important."
Gwiazdon said this from his office in Sportsman's Kalispell store, an 80,000-square-foot behemoth full of the latest and greatest gear and clothing for outdoor adventures on land and water (and air, according to a display tent that can hang in the trees).
But he knows the store wasn't always this prominent or large. Sometime around 1964, the Sportsman Surplus store popped up in Kalispell, at the junction near U.S. Highways 2 and 93. In 1968, Mel James and Don Burks purchased Sportsman's, which at that time measured 40 feet by 90 feet. After buying the shop, Burks and James built a 260-square-foot addition for the ski department, officially renaming the shop Sportsman & Ski Haus.
In 1973, Gwiazdon came on board as the ski haus manager, after five years as the equipment and rental manager on Big Mountain. Gwiazdon was the manager for six or seven years before Burks and James offered a partnership in the store, making him the merchandise manager.
In 2000, the original owners retired, and Gwiazdon became the president. Most importantly, the company became employee owned, and those who had been there long enough were able to buy into it.
That option made a big difference to some long-term employees who stayed on. Kyle Joos, who has been managing the store for 17 years, said the employee benefits at Sportsman make the staff feel cared for and important. Lorna Moore, who has been working at Sportsman for 33 years and who others refer to as "the backbone of the Whitefish store," said there was always room to move up the ladder at the company, and that Sportsman invested in its own personnel.
"We all started in entry-level positions," Moore said, looking at a group of nine employees who have been with the company for more than 20 years.
"It's a unique attribute to this company," Joos said.
The store grew in its original location, adding on over the years to eventually become 22,000 square feet. But it wasn't enough. The store needed more space, and in 2005, the company made the decision to move from its home for 39 years to north of town in the Hutton Ranch development.
Lin Gwiazdon, who has worked at Sportsman for 38 years, was on staff for nine years before she became Mike Gwiazdon's sister-in-law. She said the move to the current location was "emotional" after working for so long at the previous location.
"I was so emotional," she said. "We couldn't believe what we had built!"
The 55,000-square-foot store opened in 2007, and within six years Sportsman was expanding again, bringing the store to 80,000 square feet and adding more golfing experiences and an archery range.
In 2010, Sportsman's acquired four Tri-State Outfitters stores in Washington and Idaho, growing the outdoor empire even more.
With 45 years at Sportsman under his belt, Gwiazdon has his eyes set on retirement at the end of June. He'll still consult for a year, but this will be a big change for a man who has worked ever since he was a teen.
"I've been here 45 years, which is a long time," he said. "I've never not worked in my whole life."
As for his ascendency in the company, Gwiazdon said it came down to luck and hard work.
"I was in the right place at the right time, and I was always the hardest worker of anyone around me," he said.
He was also passionate about the outdoors, which is a unifying trait among all the employees at Sportsman. Customers buying skis are buying from a salesperson who also skis and knows everything about the products. That personal touch is what sets the folks at Sportsman apart, he said.
"We're sharing our passion," said 23-year employee Dave Schmidt.
"We work with great people," Joos said. "Our customers are amazing, and we sell fun stuff."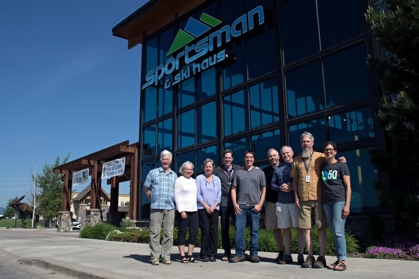 Mike Gwiazdon is on the left.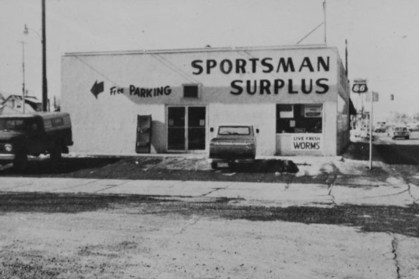 Mike Gwiazdon Celebrating His Store's 50th Anniversary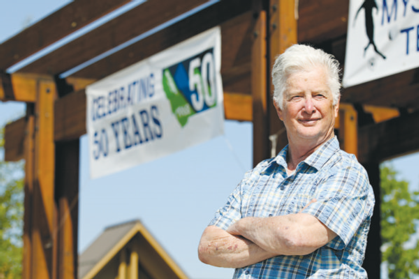 Remembering Our Favorite Childhood Places!
Hall of Fame Members - 2018
The Roosevelt Foundation Hall of Fame Banquet was held on Saturday, September 22nd, 2018, at St. Mary's Event Center in Minneapolis. Here are the new members (some names you will recognize quickly!): Medaria Arradondo ('85), Bryon Barnett ('73), Al Cannon (our amazing Biology teacher), Michael Corcoran ('58), Doug Englund ('57--Gary's brother), Margaret Erickson, John Hines ('71), William Knutson ('41--Sharon's brother), Stuart Lindman ('39), Mac McInroy, Nancy Nelson ('65), Evan Ringquist ('80), Paul Sorlie ('61--Todd's brother), John Thomas ('93), Mary Tjosvold ('61--Dale's sister), and John C. Wells (our principal). While no classmates from '59 were selected this year, the group includes the siblings of four of our classmates--awesome!!
For information about the Hall of Fame, check the Foundation website: www.roosevelthighfoundation.org.
Congratulations to this year's nominees!
RHS-Arizona Reunion - February 20, 2018:
Another successful luncheon gathering was held. Photos are posted under the heading "Arizona Reunions" in the left-hand column on our Home Page. We had ten from the Class of 1959. Attending from our class: Renae Bendik, Bob Blix, Patti Bluml, Dutch Fischer, Joel Hase, Jack Landstad, Diane Lindberg, Elly Nyberg, Sharon Thor and Doug Zubick. Unfortunately, Bob, Joel and Doug do not appear in any of the photos.
Make certain to read a copy of Stepping Around the Cowcatcher by Henry Gallagher, RHS '57. It is a fun read reminding us of our grade school and junior high days! The author, Henry Gallagher, was at the RHS-Arizona Reunion Luncheon February 20, 2018. A great presentation was enjoyed by all of those at the luncheon.
If any attendees have photos to share, please send them to me! Thanks so much!
Join us next year! Andy Wangstad at andy@rhs-az.com for more information.
For Those of Us Who Attended Howe Grade School:
Here's a June 1953 photo of four of the Howe "boys"--now all gone! Sweet memories!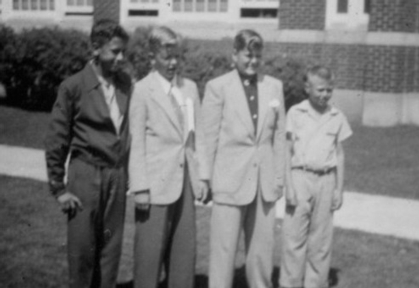 Martin Stoesser, Bruce Brenden, Roger Golemen & David Hewitt.
A Video from Ron Faanes:
Check out this video on YouTube about Excelsior Park:
Excelsior Amusement Park on Lake Minnetonka
: (Click on blue lettering or do the following:) https://
www.youtube.com
/watch?v=LIpnqzT42SE . Copy and Paste into your browser. If that doesn't work, type in Exelsior Amusement Park, 1970's, and you will find the link there.
It's followed by a short video on what's at the bottom of Lake Minnetonka. Who would have thought that they sunk boats in the lake on purpose! Remember our 9th Grade trip to Excelsior Park? I assume that all ninth graders did this!
Does anyone have or know how we can get additional copies of the Sagamore for classmates who are missing theirs?? Please let me know if you have any information!
While watching "A Capitol Fourth" on PBS last night, I was reminded how those of us who attended Howe Grade School learned to sing the "Battle Hymn of the Republic" (in part music) because the verses were written by Julia Ward Howe. How many remember this?? We know--due to its religious nature--that current Howe students probably don't learn the song, but we all loved singing it! Do today's students know what "part music" is?? Hmmmmmm! We learned so much, way back when!!
Battle Hymn of the Republic
Mine eyes have seen the glory of the coming of the Lord;
He is trampling out the vintage where the grapes of wrath are stored;
He hath loosed the fateful lightning of His terrible swift sword:
His truth is marching on.

(Chorus)
Glory, Glory, hallelujah!
Glory, glory, hallelujah!
Glory, glory, hallelujah!
His truth is marching on.

I have seen Him in the watch-fires of a hundred circling camps,
They have builded Him an altar in the evening dews and damps;
I can read His righteous sentence by the dim and flaring lamps:
His day is marching on.

(Chorus)
Glory, glory, hallelujah!
Glory, glory, hallelujah!
Glory, glory, hallelujah!
His day is marching on.
(Just the first two verses.)
DO YOU HAVE PHOTOS, MEMORIES. OR ?? TO SHARE WITH ALL OF US?! PLEASE ADD SOMETHING TO OUR WEBSITE!! Or Send me things, and I will scan and add them!
Would you like copies of our RHS Standards?? Ron Laugen sent his to Cathy Maloney Bailey. When she is finished reading them, she would like to pass them on to someone else. Please let me or Cathy know if you are interested.
From Pat Kennedy:
I think my fellow Teddies will get a kick out of this--"Teddy Roosevelt Gets Knocked Out".
https://www.youtube.com/watch?v=EtwHeRwjlkc (Copy and Paste into your browser and look for "Teddy Roosevelt Gets Knocked Out".)
It is a good time to remember our history! This link is listed under the "Announcements", but Ron Faanes brought it to our attention again! Happy Memories:
In addition, you can find memories on Facebook under "Old Minneapolis". Fun to see the photos! (You don't have to belong to Facebook to look at these photos!)
Check out the following link to see what Ron Faanes has been up to: www.mnhockeymag.com
Roosevelt Hall of Fame is on Facebook:
https://www.facebook.com/groups/HOFROOSEVELT/
Happy 100th birthday, Hiawatha!
MINNEAPOLIS – Hiawatha Community School is celebrating its 100th birthday — help celebrate the centennial! Travel back in time with students singing songs from the decades, enjoy fun carnival games and eat delicious local fare.
Built in 1916, Hiawatha maximizes individual student potential through the use of technology, differentiation, critical thinking and high expectations within a nurturing and diverse community of learners. It was recently named a School of Excellence by the Minnesota Elementary School Principals' Association. This prestigious honor was awarded for the school's commitment to 21st-century teaching and learning.
Hiawatha Community School
4201 42nd Ave. S.
Minneapolis, MN 55406
For those of us who attended either Hiawatha or Howe, here is the latest on the schools: Hiawatha Community School is located within a culturally diverse, urban community. Pre-K-2nd grade are housed at the Hiawatha Campus and 3rd-5th grade are housed at the Howe Campus. The two campuses are about six blocks apart.
Is Your Yearbook Photo on Your Profile??
Please check and see if your photo is on your "Profile". If you did not have a photo in the yearbook, please send me a senior photo, military photo, or a high-school-era photo. I will attach those photos to your "Profile" on the website. Thanks so much!!
Update Your Profile on our Website
:
If you have time, please update your "Profile" on our website. Rather than saying "retired", could you tell us what you did/are doing in your work life? Where did you go to school, get your training, etc., etc. It would be fun to see how many paths went the same direction and what paths were divergent. We are an impressive group in so many ways and in so many fields of endeavor, so it would be awesome to hear more from you!
My love of life Dr. Gail Omvedt is recently (September 2016) got inducted to the Hall of Fame of her highschool...... Roosevelt Highschool in Minneapolis, Minnesota, USA. This is for her outstanding academic work and her social work for oppressed people. I congratulate her and I express my feelings about her work. I am proud of dearest Gail.
Roosevelt Hall of Fame Nominations for 2024:
1.) You may download Hall of Fame guidelines and a downloadable nomination form at http://roosevelt.mpls.k12.mn.us/roosevelt_hall_of_fame.
2.) You make make your nomination directly on line at the RHS Foundation Website: http://roosevelthighfoundation.org/hof/hall-of-fame-nomination-form/
There will be another group selected for 2020, so you can continue to send in nominations for the future date.​
ANNOUNCEMENTS
•

Memories…..brought to you by Ron Faanes:

1950's version of an E-Mail...

I have no idea who put this together, but it is wonderful!!

In a land that time forgot,

Before the days of Dylan,

Or the dawn of Camelot.

There lived a race of innocents,

And they were you and me,

For Ike was in the White House

In that land where we were born,

Where navels were for oranges,

We longed for love and romance,

And waited for our Prince,

Eddie Fisher married Liz,

And no one's seen him since.

We danced to 'Little Darlin',

And sang to 'Stagger Lee'

And cried for Buddy Holly

In the Land That Made Me, Me.

Only girls wore earrings then,

And 3 was one too many,

And only boys wore flat-top cuts,

Except for Jean McKinney.

And only in our wildest dreams

Did we expect to see

A boy named George with Lipstick,

In the Land That Made Me, Me.

We fell for Frankie Avalon,

Annette was oh, so nice,

And when they made a movie,

They never made it twice.

We didn't have a Star Trek Five,

Or Psycho Two and Three,

Or Rocky-Rambo Twenty

In the Land That Made Me, Me.

Miss Kitty had a heart of gold,

And Chester had a limp,

And Reagan was a Democrat

Whose co-star was a chimp.

But not a Mr. T,

And Oprah couldn't talk yet,

In the Land That Made Me, Me.

We had our share of heroes,

We never thought they'd go,

At least not Bobby Darin,

Or Marilyn Monroe.

For youth was still eternal,

And life was yet to be,

And Elvis was forever

In the Land That Made Me, Me.

We'd never seen the rock band

That was Grateful to be Dead,

And Airplanes weren't named Jefferson,

And Zeppelins were not Led

And Beatles lived in gardens then,

And Monkees lived in trees,

Madonna was Mary

In the Land That Made Me, Me.

We'd never heard of microwaves,

Or telephones in cars,

And babies might be bottle-fed,

But they were not grown in jars.

And pumping iron got wrinkles out,

And 'gay' meant fancy-free,

And dorms were never co-Ed

In the Land That Made Me, Me.

We hadn't seen enough of jets

To talk about the lag,

And microchips were what was left

At the bottom of the bag.

And hardware was a box of nails,

And bytes came from a flea,

And rocket ships were fiction

In the Land That Made Me, Me.

T-Birds came with portholes,

And side shows came with freaks,

And bathing suits came big enough

To cover both your cheeks.

And Coke came just in bottles,

And skirts below the knee,

And Castro came to power

We had no Crest with Fluoride,

We had no Hill Street Blues,

We had no patterned pantyhose

Or Lipton herbal tea

Or prime-time ads for those dysfunctions

In the Land That Made Me, Me.

There were no golden arches,

No Perrier to chill,

And fish were not called Wanda,

And cats were not called Bill.

And old was forty-three,

And ancient were our parents

In the Land That Made Me, Me.

But all things have a season,

Or so we've heard them say,

And now instead of Maybelline

We swear by Retin-A.

They send us invitations

To join AARP,

We've come a long way, baby,

From the Land That Made Me, Me.

So now we face a brave new world

In slightly larger jeans,

And wonder why they're using

Smaller print in magazines

And we tell our children's children

Of the way it used to be,

Long ago and far away

In the Land That Made Me, Me.

The Fifty's,

great time in history,

Hope you enjoyed this read as much as I did.

•

Gail with her husband, Bharat Patankar | Amey Mansabdar

From TheWeek.In Magazine in India:

Gail Omvedt, 75

Country of birth: USA

Place of residence: Kasegaon village near Pune

Profession: sociologist, activist

There are love stories. And then, there are Gail Omvedt and Bharat Patankar (67). Theirs is the kind of story that would have made a perfect script for an art movie of the 80s.

A young PhD researcher on the Black Panther movement in the US, Gail came to India to study the similar non-Brahmanical movement here. Shortly after landing in Mumbai, she was directed to Kasegaon near Pune, to meet Indumati Patankar, a noted dalit leader. No one knew then that four years later, Gail would become her daughter-in-law.

Those were exciting times, a time of political energy in the country. Back in Mumbai, Gail met Indumati's son, Bharat, a doctor who had decided to give up his MD course in gynaecology, just short of graduation, to concentrate on social work in 1972. It was a year of drought, and the earnest doctor felt the displaced people needed his help to make use of employee guarantee schemes. Gail, too, was slowly blurring the lines between research and social work. Their paths crisscrossed and an unlikely romance blossomed.

They had a Vedic marriage, something Bharat, a dalit activist, was not too happy with. But the Emergency was on, and as he was underground, a court marriage was out of the question. They did not want to wait either, for Gail had decided to become Indian, and marriage to an Indian would expedite the paperwork. In 1982, Gail became an Indian on paper; she was Indian in spirit long before.

Over the years, she has become an authority on India's social movements, a respected speaker and an author. She has written around ten books, he has eight major books and 50 booklets. The Songs of Tukoba, a translation of 17th century bhakti poet Tukaram, is a favourite, the only one they have collaborated on. They now want to work together on a book on the bhakti way of life.

After marriage, Gail decided to set up home with her mother-in-law in Kasegaon. She still lives in the same house; her mother-in-law is now 91. Indumati gave her an Indian name, Shalaka, which means lightning. But she is Gail (gift of God) for most. Moving from the US to a metro in India is understandable, but shifting to a village? "It was no big deal, definitely better than living in the low-income localities in Bombay where Bharat worked. Also, all of the US is not New York. In Minnesota, where I grew up, I had a fairly country-girl upbringing," says Gail.

Different as always, they decided to educate their daughter Prachi in the Marathi medium. "It didn't hurt her in any way, she is in the US now, co-founder of the South Asian Solidarity Initiative," says Gail.

Gail is outspoken, never mincing her words in critiquing the country's developmental policies even when faced with threats to her life. After social activists Narendra Dabholkar and Govind Pansare were murdered, the couple, too, received threats. "We aren't afraid, when you oppose power you always face threat. My parents were revolutionaries in their time. But we lodged a complaint with the police," says Bharat. The couple have police protection, now, with constables always on duty around them.

My dream for India: "India should become more of what it is—an open vibrant society not afraid of change. I am not sure what path the country is on right now. It seems a very uncertain one."

Bharat and Gail n their youth:

•

Have You Moved??

With so many of our classmates moving you may need to send in a change of address to continue to receive the Roosevelt TODAY newsletter. Following is how to change or correct an address or add a new alum or ask anything about the database

Christol Kjome at 612-668-4839 or
Christol.Kjome@mpls.k12.mn.us

•

Babe Daniels (Ervin Danielsen)

Father of Sharon Danielsen

Many of us had parents who graduated from Roosevelt, as did Sharon's father. Here is a link to an interesting article written about Babe Daniels, a boxer in the 1930's.

http://www.minnesotaboxing.com/

If you have similar articles, tales of interest, please send them so others can enjoy!

•

Photos:

If you have photos that you would like us to add to the "Gallery", please send them to me as "Attachments", and I will add them to the website (patti_lt@hotmail.com). Any grade school, junior high or high school moments that you think others would enjoy would be an awesome addition to the site.

Of course, you can add any of your personal and family photos to your "Profile", so others can see what's happening in your life!

•

Riverview Theater

Bruce Moberg sent this link with photos of the Riverview Theater. It appears that there has been a major remodel! It looks awesome! Check out the photos at:

•

Roosevelt Hall of Fame

Stanley L. Paulson, Class of 1959

The Roosevelt Foundation is pleased to announce the first group of 22 to be inducted into the Roosevelt Hall of Fame. The Hall of Fame recognizes the accomplishments of Roosevelt High School (RHS) graduates, and former RHS staff and contributors who have brought pride and inspiration to Roosevelt, the community, and society.

Hall of Fame members were inducted on September 27, 2014. The inaugural banquet took place at the Airport Hilton. Over 210 honorees, families, and friends dined and saluted the honorees. Twenty-one of the 22 either attended or were represented by family at the induction ceremony and banquet, and each spoke briefly. Most emphasized the importance of their high school, teachers, and those who helped them become who they are. All said they were very honored.

Stanley L. Paulson, Class of 1959, was inducted. See photo of plaque on Stan's Profile page and under "Roosevelt Memories - RHS & Beyond". (I could not get it to attach here.)

•

CLASSMATE NEWS:

Jim Alinder:

Since Jim Alinder has not joined our website, please see what he is up to at:

There are other classmates with websites posted on their profiles on our website--

Tom Hall and Roland Willits. Have I forgotten you?? Please let me know, and I will post your name for others to check out.

You can find Laura (McClain) Kennedy's, Tom Hall's and Carlene Rae (Fredricksen) Dater's books on Amazon. Do others have books on Amazon? Let me know!

Gail Omvedt:

Type her name in your browser, and you will see what she's been up to these last fifty-five years on behalf of the poor in India. In addition, Gail has been selected at an RHS Hall of Fame Inductee for September 2016 induction.

Bob Grenier:


Bob said he is happy to receive mail via the U.S. Post Office rather than phone calls or e-mail. But, if you would like to check up on his life since RHS, just type "Robert Grenier, Poet" in your browser, and you will find much information on his life as a renowned poet, complete with photos.

Check on both Gail and Bob when you have time!

Also, tell us what you've been up to on your "Profile" page! It's nice to know what's happened in all of these years since our RHS days.