Manfred Rietsch, RHS '59
They Served with Honor: Colonel Manfred Rietsch, Wheatland
Christina Schmidt
Apr 22, 2017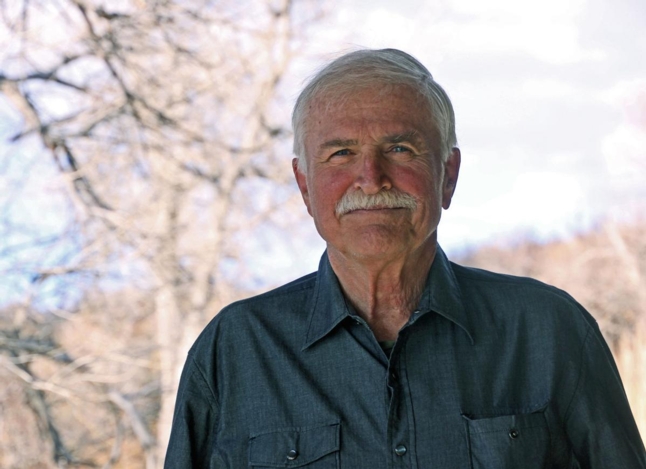 Manfred Rietsch stands for a photo outside his home near Wheatland on April 4, 2017. Rietsch left Germany for the United States at age nine, served in the Marine Corps as a pilot and eventually moved to Wyoming where he now raises cattle.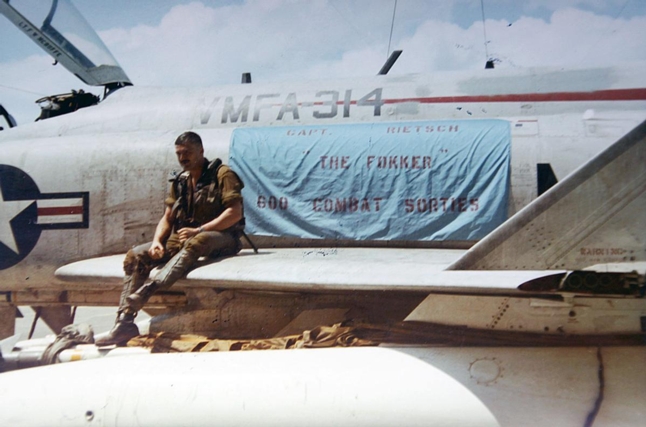 Manfred Rietsch sits on the wing of an F-4 Phantom II at a celebration of his 600th combat sortie. Rietsch flew a total of 651 combat missions in Vietnam, the most of any F-4 pilot in the war.
In 1945, Manfred Rietsch made the first of several moves that would ultimately lead him to the United States."We went on basically a cattle car from Poland to East Germany," said Rietsch. "We were there for two years, and my sister was coming back from school with communist propaganda. And my mother said, 'Enough is enough. We are going to the west.'
"So we went across the inner German border with a guide during the middle of the night. We walked across the border and ended up in northern Germany in the British zone."
Rietsch was five years old, and his sister was nine. "My mother was a very resolute woman," said Rietsch. "When she wanted to do something, she usually got it done. It was a big decision. She left both grandmothers behind and never saw them again."
Nine years later, in December 1956, the family relocated once more, to America.
Motivated
After working various jobs and then receiving a degree in philosophy and literature from the University of Minnesota, Rietsch was encouraged to follow a new path.
"An alumni (of my fraternity) 'motivated' me to sign up," said Rietsch, recalling his decision to enter the military in March 1966.
"There is a war going on, communists to be killed," the alumnus said. "Remember what they did to your father."
Rietsch's father had been a civilian administrator in Poland. When the Soviet Union came through in 1945, they demanded that all valuables be handed over to them. Rietsch's father withheld some items that were family heirlooms, but of little monetary value. Rietsch's nursemaid, who had helped raise him, turned the family in, and Rietsch's father was sentenced to ten years in prison.
After two years, they were told he had died of pneumonia. However, a family member had visited his father days before his death and said he was healthy. The family later found out that several executions took place the day that his father supposedly died of disease.
To the Skies
Rietsch joined the Marine Corps and attended Officer Candidate School in Quantico, Virginia. He went on to flight schools in Florida, Mississippi, Texas, and finally Cherry Point, North Carolina, where he trained as a pilot on the F-4 Phantom II.
And in August 1968, he arrived at Chu Lai Air Base in Vietnam.
"It was more civilized than I expected," he remembered. "There were Quonset huts, and there was running water so you could take a shower and brush your teeth. It was a somewhat pleasant surprise."
Rietsch soon began 12-hour work days, flying bombing missions in support of ground troops and other aircraft.
"For the first months, we bombed North Vietnam. Then after I was there about five months we started bombing over in Laos on the Ho Chi Minh Trail," he said. "And those were all night missions. We would be escorting the night attack airplanes, the A-6s. Basically our job was flack suppression. If any of the triple-A guns were shooting at them, we would go bomb the triple-A guns. It was an interesting mission, but also a bit challenging. You scared the hell out of yourself a few times.
"My other duty was to be the maintenance control officer," he continued. "When I wasn't flying airplanes I was down there with the troops coordinating the maintenance efforts and fixing airplanes. You flew the schedule during the day, probably 30 sorties, and by the end of the day you had about five airplanes that were flyable and the rest needed maintenance. I flew once or twice a day – that took six to eight hours – and then four hours with troops doing maintenance."
F-4 pilots were joined on every flight by a passenger, affectionately called "backseaters."
"Basically in the airplane they ran the radar and did the communications," explained Rietsch. "We called them the audio altimeter. When you are on a bombing run, they would call off the altitude and then 'pull out, pull out!' They were really systems operators … doing whatever was necessary to complement what you did as a pilot."
Rietsch had two men serve at different times as his backseater: Dick Kindsfater, nicknamed K-9, and Frank McDuffee, nicknamed Sloth. The men remain friends to this day.
"It was a special relationship," he said. "We liked each other, we trusted each other and we respected each other."
On one occasion, Rietsch took off from Chu Lai, flying out over the North China Sea. While over the water, an explosion rocked the plane.
"I think it was the left engine fire light came on and all kinds of warning lights," said Rietsch. "The wingman is screaming over the radio, 'Eject, eject, you are on fire!' I was somewhat reluctant to eject because there were sea snakes down there, and they are very poisonous and I was afraid of snakes. So I shut the engine down … I said, 'Hey K-9, don't do anything radical.' I just shut down the engine … we were still flying."
With the fire abated, they made it safely back to Chu Lai.
"It reflected a little bit of the trust and respect that you have, because normally if the backseater would hear 'eject, eject,' he is out of there. It depends on which way the ejection was selected, but he could eject you also."
The Wild West
After his initial 13-month tour, rather than return to Cherry Point, Rietsch asked to stay in Vietnam another six months and then another three, as he was enjoying his time as a pilot.
"Flying a Mach 2 brute of an airplane is pure unadulterated fun," said Rietsch. "It is exhilarating, it is fun, but it is also challenging."
When he left Vietnam after 22 months, Rietsch had flown 651 combat missions, the most of any F-4 pilot during the war. He had also been awarded the Distinguished Flying Cross and 52 air medals.
"When you are 26 or 27 years old you are immortal," he said. "You are around a bunch of great guys doing what you love to do, flying planes and flying combat, beers are ten cents, it was a good social life at the club, every few months you go on R and R to the Philippines or Hong Kong or Australia. Hey, it doesn't get any better than that!"
Rietsch returned to the U.S., to El Toro, California, where he met his wife Connie. He attended Top Gun school in Miramar, California, and then served as the first Marine Top Gun instructor. He also served in Hawaii, Norway, Egypt and Washington, D.C., and earned a master's degree in systems management.
In the 1990s, he served in Operation Desert Shield and Desert Storm, flying more than 70 missions. He retired from the Marine Corps in 1992, going on to work in the private sector for several more years.
In 2013, Rietsch and his wife moved to Wyoming on a whim he had after recalling a childhood memory from Germany.
"We lived in a small village called Schlarpe, and I would go to school in Northeim and commute by train," said Rietsch. "Every Thursday there was a Wild West magazine that came out that talked about Tom Prox and Billy Jenkins. They lived in Laramie and kept Laramie safe. There were great Wild West stories, shoot-'em-up cowboys and gangsters and rustlers. When all of a sudden I didn't have a job, this came back to my mind and I should go and check out Laramie. I got in my car, drove to Laramie and became a resident the next day."
The Rietschs now live near Wheatland where they have a new adventure: raising 397 Red Angus heifers.
"The opportunities I had coming here and doing all these things – you just say what a great country America is," said Rietsch. "I wouldn't trade it for anything. I got more out than I put in."