Welcome to the Roosevelt Senior High Class Of 1959 Website
Some of us are seeing these--are they visible in Minneapolis yet??
Or does it still look like this?
RHS-Arizona Reunion - February 20, 2018:
Another successful luncheon gathering was held. Photos are posted under the heading "Arizona Reunions" in the left-hand column on our Home Page. We had ten from the Class of 1959. Attending from our class: Renae Bendik, Bob Blix, Patti Bluml, Dutch Fischer, Joel Hase, Jack Landstad, Diane Lindberg, Elly Nyberg, Sharon Thor and Doug Zubick. Unfortunately, Bob, Joel and Doug do not appear in any of the photos.
Make certain to read a copy of Stepping Around the Cowcatcher by Henry Gallagher, RHS '57. It is a fun read reminding us of our grade school and junior high days! The author, Henry Gallagher, was at the RHS-Arizona Reunion Luncheon February 20, 2018. A great presentation was enjoyed by all of those at the luncheon.
If any attendees have photos to share, please send them to me! Thanks so much!
Join us next year! Andy Wangstad at andy@rhs-az.com for more information.
Book--Stepping Around the Cowcatcher
Words of praise for this story about the South Minneapolis of our youth from Doug Butler: "I recommend this book as it was written by a '57 RHS grad recalling his childhood memories(and ours) growing up in south MPLS. Check it out."

Dale Tjosvold's Mother:


At 95, Margaret Tjosvold continues to be a role model model for family, friends, colleagues and the community.
October 1, 2013
Born on Oct. 14,1918 in South Minneapolis, Margaret Tjosvold began her journey of care, compassion and cooking. Her mother, Rosa Camile Williams, was a nurse at Deaconess Hospital and went to people's homes to care for them, providing massages and baths. Rosa grew up on a farm in Iowa and developed a love for the land, leading to her ownership of multiple properties over the years. She moved to one of those properties in the 1950s - a farm in Coon Rapids. At Rosa's death, Margaret inherited six acres of that farm in Coon Rapids. It is now the main campus location for Mary T. Inc. Rosa greatly influenced Margaret's values of caring for people with disabilities and the elderly, taking risks, remaining positive and sharing lots of good food!

Margaret married Dale Tjosvold and raised a family of three children - Dale Jr., Mary and Dean (with grandchildren Jason, Lena, Wesley and Coleen). She began a working career at JC Penny, becoming the first woman to manage the catalog department. Her career at JC Penny spanned 25 years, from 1951 to 1976, when she left and co-founded Camilia Rose Convalescent Center (now Camilia Rose Care Center) with her sister, Agnes Mallary, and her daughter Mary T. In addition, Margaret and Mary T. focused on Camilia Rose Group Home, which became the first business in the organization today known as Mary T. Inc. Their vision was for a campus that would include a children's center, homes for people with developmental disabilities and a senior retirement center. That vision has expanded into the current configuration of Mary T. Inc. with services for people with disabilities, independent and assisted living for seniors, home health and hospice care, various types of rental housing, customized concierge services and assistive technology. MTI also serves people with brain injury in Maryland and seniors in a rental community in Casa Grande, Arizona.

Margaret continues to be the heart of Mary T. Inc. with her compassion, caring and concern for the people who are served. Each year Margaret cooks for 100 clients who attend camp at Bay View Lodge; purchases and wraps individual gifts for people in Mary T. Inc. homes and programs; and helps plan many parties, dances and dinners for the people Mary T. Inc. serves. In 2003, Margaret and Mary T. opened the Margaret Tjosvold Primary School in Santa, Bamenda, Cameroon. They continue to support the school with staff salaries, exam fees, books, clothes, supplies and a second school building. Their philanthropy in Cameroon has extended to the Heiffer Project, as well as supporting a VOSH (Volunteer Optometric Services to Humanity) mission, providing eyeglasses to 3,500 people.

At 95 (now 99), Margaret serves as a role model for us all - philanthropy, compassion, care for the most vulnerable people in our community, spreading joy, a positive attitude and a continuing vision of a better world. We celebrate her 95 years and are grateful for her contributions to the lives she touches daily.

Happy Birthday, Margaret!
1555 118th Lane NW, Coon Rapids, MN 55448 • (763) 754-2505 • (888) 255-6900
There were some great photos with the article, but I couldn't copy them! Margaret's daughter, Mary--Dale's sister--continues her mother's passion for helping others. Mary, too, was an RHS graduate. (Dale's father, Dale, died in 2014 at the age of ninety-six.)

For Those of Us Who Attended Howe Grade School:
Here's a June 1953 photo of four of the Howe "boys"--now all gone! Sweet memories!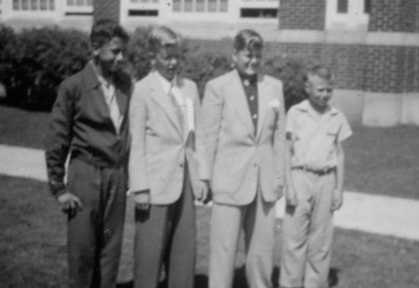 Martin Stoesser, Bruce Brenden, Roger Golemen & David Hewitt.
A Video from Ron Faanes:
Check out this video on YouTube about Excelsior Park:
Excelsior Amusement Park on Lake Minnetonka
: (Click on blue lettering or do the following:) https://
www.youtube.com
/watch?v=LIpnqzT42SE . Copy and Paste into your browser. If that doesn't work, type in Exelsior Amusement Park, 1970's, and you will find the link there.
It's followed by a short video on what's at the bottom of Lake Minnetonka. Who would have thought that they sunk boats in the lake on purpose! Remember our 9th Grade trip to Excelsior Park? I assume that all ninth graders did this!
Book--Stepping Around the Cowcatcher
Words of praise for this story about the South Minneapolis of our youth from Doug Butler: "I recommend this book as it was written by a '57 RHS grad recalling his childhood memories(and ours) growing up in south MPLS. Check it out.
The author, Henry Gallagher, was at the RHS-Arizona Reunion Luncheon February 20, 2018. A great presentation was enjoyed by all of those at the luncheon.
Sagamores
Does anyone have or know how we can get additional copies of the Sagamore for classmates who are missing theirs?? Please let me know if you have any information!
Gail Omvedt and Her Husband Will Soon Be in a Film!
While watching "A Capitol Fourth" on PBS last night, I was reminded how those of us who attended Howe Grade School learned to sing the "Battle Hymn of the Republic" (in part music) because the verses were written by Julia Ward Howe. How many remember this?? We know--due to its religious nature--that current Howe students probably don't learn the song, but we all loved singing it! Do today's students know what "part music" is?? Hmmmmmm! We learned so much, way back when!!
Battle Hymn of the Republic
Mine eyes have seen the glory of the coming of the Lord;
He is trampling out the vintage where the grapes of wrath are stored;
He hath loosed the fateful lightning of His terrible swift sword:
His truth is marching on.

(Chorus)
Glory, Glory, hallelujah!
Glory, glory, hallelujah!
Glory, glory, hallelujah!
His truth is marching on.

I have seen Him in the watch-fires of a hundred circling camps,
They have builded Him an altar in the evening dews and damps;
I can read His righteous sentence by the dim and flaring lamps:
His day is marching on.

(Chorus)
Glory, glory, hallelujah!
Glory, glory, hallelujah!
Glory, glory, hallelujah!
His day is marching on.
(Just the first two verses.)
DO YOU HAVE PHOTOS, MEMORIES. OR ?? TO SHARE WITH ALL OF US?! PLEASE ADD SOMETHING TO OUR WEBSITE!! Or Send me things, and I will scan and add them!
Would you like copies of our RHS Standards?? Ron Laugen sent his to Cathy Maloney Bailey. When she is finished reading them, she would like to pass them on to someone else. Please let me or Cathy know if you are interested.
From Pat Kennedy:
I think my fellow Teddies will get a kick out of this--"Teddy Roosevelt Gets Knocked Out".
https://www.youtube.com/watch?v=EtwHeRwjlkc (Copy and Paste into your browser and look for "Teddy Roosevelt Gets Knocked Out".)
It is a good time to remember our history! This link is listed under the "Announcements", but Ron Faanes brought it to our attention again! Happy Memories:
In addition, you can find memories on Facebook under "Old Minneapolis". Fun to see the photos! (You don't have to belong to Facebook to look at these photos!)
Check out the following link to see what Ron Faanes has been up to: www.mnhockeymag.com
Roosevelt Hall of Fame is on Facebook:
https://www.facebook.com/groups/HOFROOSEVELT/
Happy 100th birthday, Hiawatha!
MINNEAPOLIS – Hiawatha Community School is celebrating its 100th birthday — help celebrate the centennial! Travel back in time with students singing songs from the decades, enjoy fun carnival games and eat delicious local fare.
Built in 1916, Hiawatha maximizes individual student potential through the use of technology, differentiation, critical thinking and high expectations within a nurturing and diverse community of learners. It was recently named a School of Excellence by the Minnesota Elementary School Principals' Association. This prestigious honor was awarded for the school's commitment to 21st-century teaching and learning.
Hiawatha Community School
4201 42nd Ave. S.
Minneapolis, MN 55406
For those of us who attended either Hiawatha or Howe, here is the latest on the schools: Hiawatha Community School is located within a culturally diverse, urban community. Pre-K-2nd grade are housed at the Hiawatha Campus and 3rd-5th grade are housed at the Howe Campus. The two campuses are about six blocks apart.
A 75+/- Birthday Reunion Luncheon--September 15, 2016!! (Added to this post on: 9/29/2016)
A big Thank You to all of our classmates who so kindly donated money to our class luncheon! It is so helpful in off-setting the cost of mailing, door prizes, etc., etc. Your generosity is truly appreciated!
Our luncheon was an awesome event, attended by the group listed below (if I forgot you, please let me know)! The food was delicious and the rains held off until everyone headed for home.
Our tables beheld beautiful arrangements of prairie grasses picked and designed by Cathy Maloney Bailey. These were awarded to classmates as door prizes, along with bottles of wine selected by Hal Rogers, gift cards and more.
I have posted the photos that Ron Faanes and Ron Starkey--our photographers extraordinaire!-- took for us, in addition to photos that Bonnie Moline Sjoberg took. Sorry that I have not added names to all of the photos yet--still feel like I am in a catch-up mode since returning from the Twin Cities!! It is my priority to get them labeled within the week! I will need your help in identifying classmates and their spouses/partners!
Thanks to those who attended! Please mark September 2019 on your calendars for our "60th" Reunion. Here's a "savings plan" for all: put a jar, container, etc. on your kitchen counter, and every week drop in a dollar. By 2019, you will have enough money for our reunion luncheon, plus some!
We look forward to seeing many of you in 2019!!
Additional Reunion Luncheon Photos: If you took photos and would like me to add them to the Reunion Photo section, please send them to me in a jpg format, and I will post them.
E-Mail Addresses:
Some of our class e-mails are bouncing back, so I suspect that a number of you may have changed e-mail addresses, or the RHS e-mails are going to your junk e-mail box. Please let me know if you have changed your e-mail address! Thanks so much!
Is Your Yearbook Photo on Your Profile??
Please check and see if your photo is on your "Profile". If you did not have a photo in the yearbook, please send me a senior photo, military photo, or a high-school-era photo. I will attach those photos to your "Profile" on the website. Thanks so much!!
Update Your Profile on our Website
:
If you have time, please update your "Profile" on our website. Rather than saying "retired", could you tell us what you did/are doing in your work life? Where did you go to school, get your training, etc., etc. It would be fun to see how many paths went the same direction and what paths were divergent. We are an impressive group in so many ways and in so many fields of endeavor, so it would be awesome to hear more from you!
Hall of Fame Banquet was Saturday, September 17th, 2016 at the Airport Hilton.
Among this year's inductees were Dr. Gail Omvedt, RHS '59; Al Gowans, a coach and teacher many of us had for one or more history/government courses; and Peggy Nevers, Gary Englund's mother. This was a very professionally prepared event, with delicious food, incredible company and much-deserved honors for so many RHS graduates and staff.
Our class continues to be supportive of all-things Roosevelt, as Roger Wenschlag served on the Hall of Fame Committee for Selection and Program, and Ron and Sharon (Dunning) Faanes served as Evaluators!!
In addition, the Class of '59 was also well-represented at the Banquet. Attendees included: Patti (Bluml) Timmons, Sharon (Dunning) Faanes, Gary Englund, Ron Faanes, Mike Fitzgerald, Barb (Iverson) Wakefield, Kenny Jeddeloh, Judy (Karpinen) Johnson, Elly (Nyberg) Clark, Marlene (Nyquist) Johnson, Diane (Wagnild) Wenschlag, Bruce Wakefield, and Roger Wenschlag, in addition to spouses/partners of our classmates. Mike Gaynor registered but was unable to attend.
My love of life Dr. Gail Omvedt is recently got inducted to the Hall of Fame of her highschool...... Roosevelt Highschool in Minneapolis, Minnesota, USA. This is for her outstanding academic work and her social work for oppressed people. I congratulate her and I express my feelings about her work. I am proud of dearest Gail.
Roosevelt Hall of Fame Nominations for 2018:
1.) You may download Hall of Fame guidelines and a downloadable nomination form at http://roosevelt.mpls.k12.mn.us/roosevelt_hall_of_fame.
2.) If you want a hard copy nomination form mailed to you, contact Roger Wenschlag at Rwenschlag@comcast.net, 612-721-2610, or you may reach him by mail at: 4829 - 30th Avenue South, Minneapolis, MN 55417.
3.) You make make your nomination directly on line at the RHS Foundation Website: http://roosevelthighfoundation.org/hof/hall-of-fame-nomination-form/
There will be another group selected for 2018, so you can continue to send in nominations for the future date.
Reunion Photos: (1/29/2015)
Ron Starkey's and Ron Faanes' Reunion photos are under the heading: "Roosevelt 1959 - 2014 Reunion Photos", on the left-hand side of the page. I have added names to the photos--primarily where there are close-ups of classmates. I have not included the names of spouses/friends who were not classmates. Unfortunately, there are people I can't identify--how sad is that??!!-- so please do not be offended if I have not identified you, but do let me know which picture you are in so I can add your name. Thanks so much! (patti_lt@hotmail.com)
Directory Order: (updated -- 1/29/2015)
We have received our second order of Directories. To order one, please send an e-mail to: patti_lt@hotmail.com. They are $7.00 with a check payable to Roosevelt Class of '59. Thanks!!
Directory Updates:
Let me know if you need any updates about our classmates--addresses, phone numbers, etc., etc. The list is too long to keep adding to it on the website. It turns out we all do a whole lot of movin'!!
Added to the Deceased List Since Our 55th Reunion in 2014: Alan Bollin, Judith A. Casey, Diane Lindstrom, Robert Madsen, Joy C. Noble, Dennis C. Johnson, Roger Golmen, Wayne E. Sjoquist, Bob Thompson, Leroy Hauge, Dick Jindra, Tom Knutsen, Alton C. Jensen, Jr., Ron Ellingson, Jerry Brown, Shirley Paulson, Brad Kerns, Darlene Mees, Donna Moore, Avis Olson, Bob Janssen, Don Igelsrud, Bob Lucey, Judy Moyer and Byron Hedin .​
Yearbook Photos:
All yearbook photos are now on our individual "Profiles". In case you've forgotten how we looked 50+ years ago, just type in a name and check out the photos. In addition, the full page yearbook photo pages can be found by clicking the words "Yearbook Photos" on the left-hand side of the Home Page.
RHS Logo Hats, Etc.: If you are interested in ordering the hats, visors, towels, sweatshirts with the RHS embroidered logo, information can be found on the left-hand side of the page under: "RHS 1959 Embrodered Hats, etc.".
ANNOUNCEMENTS
•

Memories…..brought to you by Ron Faanes:

1950's version of an E-Mail...

I have no idea who put this together, but it is wonderful!!

In a land that time forgot,

Before the days of Dylan,

Or the dawn of Camelot.

There lived a race of innocents,

And they were you and me,

For Ike was in the White House

In that land where we were born,

Where navels were for oranges,

We longed for love and romance,

And waited for our Prince,

Eddie Fisher married Liz,

And no one's seen him since.

We danced to 'Little Darlin',

And sang to 'Stagger Lee'

And cried for Buddy Holly

In the Land That Made Me, Me.

Only girls wore earrings then,

And 3 was one too many,

And only boys wore flat-top cuts,

Except for Jean McKinney.

And only in our wildest dreams

Did we expect to see

A boy named George with Lipstick,

In the Land That Made Me, Me.

We fell for Frankie Avalon,

Annette was oh, so nice,

And when they made a movie,

They never made it twice.

We didn't have a Star Trek Five,

Or Psycho Two and Three,

Or Rocky-Rambo Twenty

In the Land That Made Me, Me.

Miss Kitty had a heart of gold,

And Chester had a limp,

And Reagan was a Democrat

Whose co-star was a chimp.

But not a Mr. T,

And Oprah couldn't talk yet,

In the Land That Made Me, Me.

We had our share of heroes,

We never thought they'd go,

At least not Bobby Darin,

Or Marilyn Monroe.

For youth was still eternal,

And life was yet to be,

And Elvis was forever

In the Land That Made Me, Me.

We'd never seen the rock band

That was Grateful to be Dead,

And Airplanes weren't named Jefferson,

And Zeppelins were not Led

And Beatles lived in gardens then,

And Monkees lived in trees,

Madonna was Mary

In the Land That Made Me, Me.

We'd never heard of microwaves,

Or telephones in cars,

And babies might be bottle-fed,

But they were not grown in jars.

And pumping iron got wrinkles out,

And 'gay' meant fancy-free,

And dorms were never co-Ed

In the Land That Made Me, Me.

We hadn't seen enough of jets

To talk about the lag,

And microchips were what was left

At the bottom of the bag.

And hardware was a box of nails,

And bytes came from a flea,

And rocket ships were fiction

In the Land That Made Me, Me.

T-Birds came with portholes,

And side shows came with freaks,

And bathing suits came big enough

To cover both your cheeks.

And Coke came just in bottles,

And skirts below the knee,

And Castro came to power

We had no Crest with Fluoride,

We had no Hill Street Blues,

We had no patterned pantyhose

Or Lipton herbal tea

Or prime-time ads for those dysfunctions

In the Land That Made Me, Me.

There were no golden arches,

No Perrier to chill,

And fish were not called Wanda,

And cats were not called Bill.

And old was forty-three,

And ancient were our parents

In the Land That Made Me, Me.

But all things have a season,

Or so we've heard them say,

And now instead of Maybelline

We swear by Retin-A.

They send us invitations

To join AARP,

We've come a long way, baby,

From the Land That Made Me, Me.

So now we face a brave new world

In slightly larger jeans,

And wonder why they're using

Smaller print in magazines

And we tell our children's children

Of the way it used to be,

Long ago and far away

In the Land That Made Me, Me.

The Fifty's,

great time in history,

Hope you enjoyed this read as much as I did.

•

Gail with her husband, Bharat Patankar | Amey Mansabdar

From TheWeek.In Magazine in India:

Gail Omvedt, 75

Country of birth: USA

Place of residence: Kasegaon village near Pune

Profession: sociologist, activist

There are love stories. And then, there are Gail Omvedt and Bharat Patankar (67). Theirs is the kind of story that would have made a perfect script for an art movie of the 80s.

A young PhD researcher on the Black Panther movement in the US, Gail came to India to study the similar non-Brahmanical movement here. Shortly after landing in Mumbai, she was directed to Kasegaon near Pune, to meet Indumati Patankar, a noted dalit leader. No one knew then that four years later, Gail would become her daughter-in-law.

Those were exciting times, a time of political energy in the country. Back in Mumbai, Gail met Indumati's son, Bharat, a doctor who had decided to give up his MD course in gynaecology, just short of graduation, to concentrate on social work in 1972. It was a year of drought, and the earnest doctor felt the displaced people needed his help to make use of employee guarantee schemes. Gail, too, was slowly blurring the lines between research and social work. Their paths crisscrossed and an unlikely romance blossomed.

They had a Vedic marriage, something Bharat, a dalit activist, was not too happy with. But the Emergency was on, and as he was underground, a court marriage was out of the question. They did not want to wait either, for Gail had decided to become Indian, and marriage to an Indian would expedite the paperwork. In 1982, Gail became an Indian on paper; she was Indian in spirit long before.

Over the years, she has become an authority on India's social movements, a respected speaker and an author. She has written around ten books, he has eight major books and 50 booklets. The Songs of Tukoba, a translation of 17th century bhakti poet Tukaram, is a favourite, the only one they have collaborated on. They now want to work together on a book on the bhakti way of life.

After marriage, Gail decided to set up home with her mother-in-law in Kasegaon. She still lives in the same house; her mother-in-law is now 91. Indumati gave her an Indian name, Shalaka, which means lightning. But she is Gail (gift of God) for most. Moving from the US to a metro in India is understandable, but shifting to a village? "It was no big deal, definitely better than living in the low-income localities in Bombay where Bharat worked. Also, all of the US is not New York. In Minnesota, where I grew up, I had a fairly country-girl upbringing," says Gail.

Different as always, they decided to educate their daughter Prachi in the Marathi medium. "It didn't hurt her in any way, she is in the US now, co-founder of the South Asian Solidarity Initiative," says Gail.

Gail is outspoken, never mincing her words in critiquing the country's developmental policies even when faced with threats to her life. After social activists Narendra Dabholkar and Govind Pansare were murdered, the couple, too, received threats. "We aren't afraid, when you oppose power you always face threat. My parents were revolutionaries in their time. But we lodged a complaint with the police," says Bharat. The couple have police protection, now, with constables always on duty around them.

My dream for India: "India should become more of what it is—an open vibrant society not afraid of change. I am not sure what path the country is on right now. It seems a very uncertain one."

Bharat and Gail n their youth:

•

Have You Moved??

With so many of our classmates moving you may need to send in a change of address to continue to receive the Roosevelt TODAY newsletter. Following is how to change or correct an address or add a new alum or ask anything about the database

Christol Kjome at 612-668-4839 or
Christol.Kjome@mpls.k12.mn.us

•

Babe Daniels (Ervin Danielsen)

Father of Sharon Danielsen

Many of us had parents who graduated from Roosevelt, as did Sharon's father. Here is a link to an interesting article written about Babe Daniels, a boxer in the 1930's.

http://www.minnesotaboxing.com/

If you have similar articles, tales of interest, please send them so others can enjoy!

•

Photos:

If you have photos that you would like us to add to the "Gallery", please send them to me as "Attachments", and I will add them to the website (patti_lt@hotmail.com). Any grade school, junior high or high school moments that you think others would enjoy would be an awesome addition to the site.

Of course, you can add any of your personal and family photos to your "Profile", so others can see what's happening in your life!

•

SOME WEBSITES OF INTEREST:

This is an incredible website with the history of our schools, churches, drive-ins and much, much more! Please check it out, you will learn so much about our South Minneapolis neighborhoods! Do you remember two airplane crashes--one in 1956 (military) and one in 1961 (private)--near the Morris Park Elementary School??!! Have you ever heard of Morris Park??!! It is a well researched website, so do take advantage of all it has to offer. This will take you to the drive-ins--scroll to the bottom of the page for all the other links!

Here's another website with great photos of our era (sent to us by Ron Faanes) [just type into your browser]:

www.flickr.com/photos/blast_of_the_past/

Joyce (Eklund) Erickson invites you to visit her website: www.theonlinebibleschool.net. More information on her profile on our website.

In case you have not seen these websites, you might enjoy them.

Judy Hoy sent this link:

For those of you "Lost in the Fifties...

My suggestion: just ignore the negative comments posted by viewers!! Yes, there could be things from the sixties and seventies in these photos, but it's the memories that count! Have fun!! (For some reason when you go to our website, there is an "s" after the "http". In order to see this video, simply cut and paste it to your browser and eliminate the "s". I'm clueless to why this is the case!)

Another verson of "Lost in the Fifties" from Kenny Breffle (easier to download):

•

Connections Gallery Sculpture

Just in time for the Reunion! Classmates can stop by RHS and enjoy the new sculpture! The "Connections Gallery" was dedicated on August 20th, 2014, as part of a program welcoming back students, parents and staff.

•

Riverview Theater

Bruce Moberg sent this link with photos of the Riverview Theater. It appears that there has been a major remodel! It looks awesome! Check out the photos at:

•

Roosevelt Hall of Fame

Stanley L. Paulson, Class of 1959

The Roosevelt Foundation is pleased to announce the first group of 22 to be inducted into the Roosevelt Hall of Fame. The Hall of Fame recognizes the accomplishments of Roosevelt High School (RHS) graduates, and former RHS staff and contributors who have brought pride and inspiration to Roosevelt, the community, and society.

Hall of Fame members were inducted on September 27, 2014. The inaugural banquet took place at the Airport Hilton. Over 210 honorees, families, and friends dined and saluted the honorees. Twenty-one of the 22 either attended or were represented by family at the induction ceremony and banquet, and each spoke briefly. Most emphasized the importance of their high school, teachers, and those who helped them become who they are. All said they were very honored.

Stanley L. Paulson, Class of 1959, was inducted. See photo of plaque on Stan's Profile page and under "Roosevelt Memories - RHS & Beyond". (I could not get it to attach here.)

•

CLASSMATE NEWS:

Jim Alinder:

Since Jim Alinder has not joined our website, please see what he is up to at:

There are other classmates with websites posted on their profiles on our website--

Tom Hall and Roland Willits. Have I forgotten you?? Please let me know, and I will post your name for others to check out.

You can find Laura (McClain) Kennedy's, Tom Hall's and Carlene Rae (Fredricksen) Dater's books on Amazon. Do others have books on Amazon? Let me know!

Gail Omvedt:

Type her name in your browser, and you will see what she's been up to these last fifty-five years on behalf of the poor in India. In addition, Gail has been selected at an RHS Hall of Fame Inductee for September 2016 induction.

Bob Grenier:


Bob said he is happy to receive mail via the U.S. Post Office rather than phone calls or e-mail. But, if you would like to check up on his life since RHS, just type "Robert Grenier, Poet" in your browser, and you will find much information on his life as a renowned poet, complete with photos.

Check on both Gail and Bob when you have time!

Also, tell us what you've been up to on your "Profile" page! It's nice to know what's happened in all of these years since our RHS days.